Define your employee value proposition
An employee value proposition (EVP) is a statement that defines what an organization can offer employees in terms of career development, job satisfaction, and work-life balance. It's a strategic tool that can help organizations attract, retain, and engage employees.
An effective EVP captures the unique culture, values, and mission of an organization and articulates how these things contribute to the employee experience. When developing an EVP, it's important to consider the needs and wants of your target audience. What will attract and motivate them? What kind of employee are you looking for
‍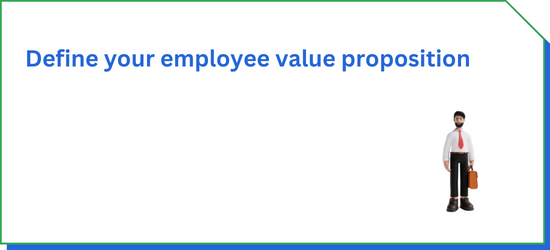 ‍
Monitor online reviews
Most companies today have an online presence, and one of the best ways to keep track of what people think of your company is to monitor online reviews. There are several different ways to do this, and the method you choose will depend on your budget and the resources you have available.
‍
One of the simplest and most effective ways to monitor online reviews is to set up Google Alerts for your company name and key products. This will send you an email notification any time someone mentions your company or product online. Another option is to use a social media monitoring tool like Hootsuite or Social Mention. These tools will help you track all mentions of your company across social media platforms.
‍
Whatever method you choose, monitoring online reviews is an important part of managing your company's online reputation. If you own a business, it is important to monitor online reviews. This can be a full-time job in itself, but it is worth it to protect your reputation. Not all reviews will be positive, but you can learn from the negative ones and use them to improve your business.
‍
Some businesses choose to ignore online reviews, but this is a mistake. You should always take the time to read what people are saying about your business. If you see a trend of negative reviews, take action to try to improve the situation.
‍
‍
Show a commitment to social responsibility
In order to be a good corporate citizen, businesses need to show a commitment to social responsibility. This can take many forms, such as donating to charities, supporting local initiatives, or being environmentally friendly.
‍
Businesses have a responsibility to the communities in which they operate and should give back where they can. There are many ways to do this, and the most important thing is to choose an initiative that is aligned with the company's values.
‍
A commitment to social responsibility is not only the right thing to do, but it can also have a positive impact on the bottom line. Customers are increasingly interested in doing business with companies that care about more than just profit.
‍
So, if you're looking for ways to show that your company is a good corporate citizen, consider committing to social responsibility. It's good for the community, good for business, and good for the world. he meaning of social responsibility is that businesses, organizations and individuals must act in a way that benefits society as a whole. This goes beyond making a profit and includes taking actions that protect and improve the well-being of people, the environment and the economy.
‍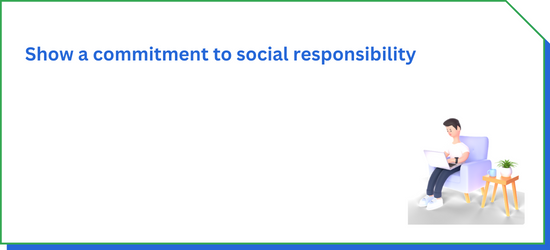 ‍
Emphasize diversity
Organizations that emphasize diversity are those that not only recognize the value of different perspectives, but also make a concerted effort to create an inclusive environment where all employees feel comfortable contributing their unique perspectives.
There are many benefits to diversity in the workplace, including improved creativity and innovation, increased market share, and improved customer satisfaction. In addition, a diverse workforce can help an organization better understand and serve its customers.
A key challenge for organizations is to create a workplace culture where employees feel comfortable sharing their diverse perspectives. This can be done through a variety of initiatives, including training programs, mentorship programs, and employee resource groups.
‍