1. Acknowledge their application.
The candidate and you will first interact at this point. Recruiters request that applicants create a cover letter, an updated resume, and work samples. The least you can do is acknowledge receipt of the application if the applicant went into the trouble of preparing all of those requirements.
‍
Send an email acknowledging receipt of the application and informing the applicant that you will be in touch shortly.
‍
You could also include a statement to the effect that going forward, you will only contact those who made the shortlist.
‍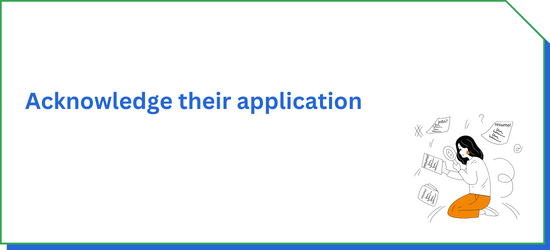 ‍
2.Inform them that they were not selected for an interview or that they failed an interview.
Recruiters typically only contact candidates who were invited for interviews, so it's crucial that you also get in touch with those who weren't selected.
‍
The applicant expects feedback after the interview if the applicant takes the time to participate. Inform them as soon as you can if they didn't get the job so they don't have to wait impatiently.
‍
Additionally, you could explain to them why they weren't taken into account. Through this, they can develop their abilities for their upcoming applications.
‍
To keep them informed of company news and job openings, you could ask them to sign up for your newsletter and follow you on social media.
‍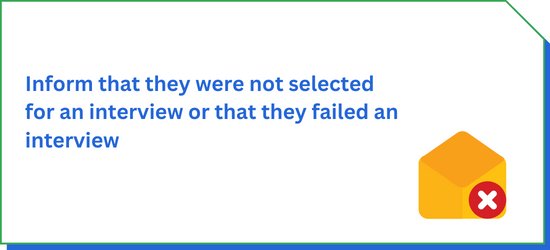 ‍
3.Tell them they failed the final evaluation.
To avoid the candidate waiting impatiently for a job that they would not get, let them know if they failed the final assessment.
‍
These excellent candidates who advance to the application stage but do not land the job for one reason or another can still be taken into consideration for a future position in the organization. The best way to keep your relationship with them positive is to politely inform them of your decision to reject them and offer to keep them on your talent list in case a position becomes available in the future.
‍
Most recruiters receive hundreds of applications, and they frequently lack the time to contact every candidate. However, timely and appropriate communication with candidates demonstrates that you are a courteous and competent recruiter. By giving applicants timely updates regarding their job application, you can show your appreciation for their interest and the time they spent applying.
‍
By effectively communicating with your candidates, you leave them with a favorable impression of your business. This favorable impression might influence the candidate's future application to your company. Or, the impression you make could influence other people who might apply for jobs you have in the future if the candidate talks about it.
‍